I
Is it wise to use emojis in your SEO strategy? The short answer is—yes! Here's how using emojis can benefit your brand and help you rank higher in search.
Emojis are no longer something only teenagers use. The 2016 emoji report showed that 92% of online consumers used emojis in their communications. Furthermore, in 2014, Socialbakers analysed emoji use among the top 500 brand pages on Facebook and Twitter, and did the same in 2015 to see if usage increased over the past year. The results were stunning: in Q4 of 2014, 28% of Facebook's top brand pages used emojis in their posts. By Q4 of 2015, that figure had jumped to 40%.
This infographic clearly demonstrates that emojis are here to stay. However, the statistics are a bit outdated: As of March 2019, there are 3,019 emojis in total in the Unicode Standard.
What does this mean for brands?
USING EMOJIS TO BOOST SEO
1: YOU CAN USE EMOJIS TO INCREASE CTR
Click-through rate is essential, and you can use emojis to boost it. Adding emojis to your snippets and ads could help your website stand out in the sea of search results, therefore attracting more users and increasing CTR in kind.
Here's what this could look like: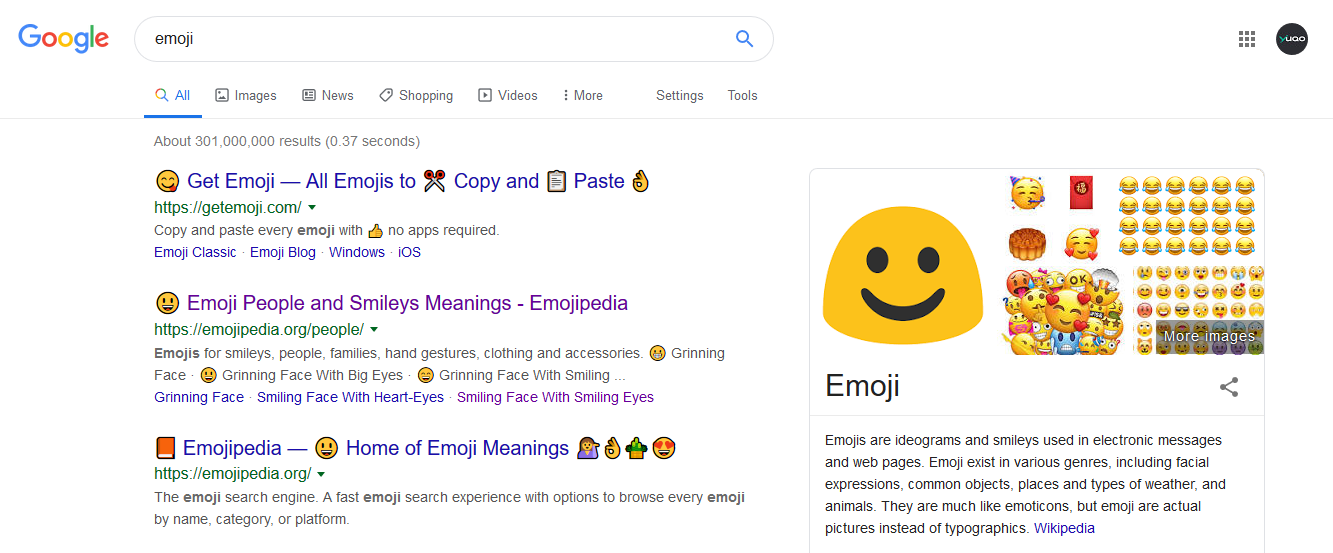 In 2018, Wordstream's data scientist Mark Irvine ran some tests to prove this fact. Results showed that an emoji ad was served about 10% more than a non-emoji one, and received four clicks compared to the other ad's 0.
2: YOU CAN TAKE ADVANTAGE OF SEARCH VOLUME
It's hard for local businesses and startups to rank high in search right from the start. The competition is usually immense, especially if your target audience uses text-based keywords to search for the products or services you offer, be it pizza delivery, flowers, etc.
However, if you add emojis to your meta titles and descriptions, you'll be seen by those who run emoji-based searches like the one below: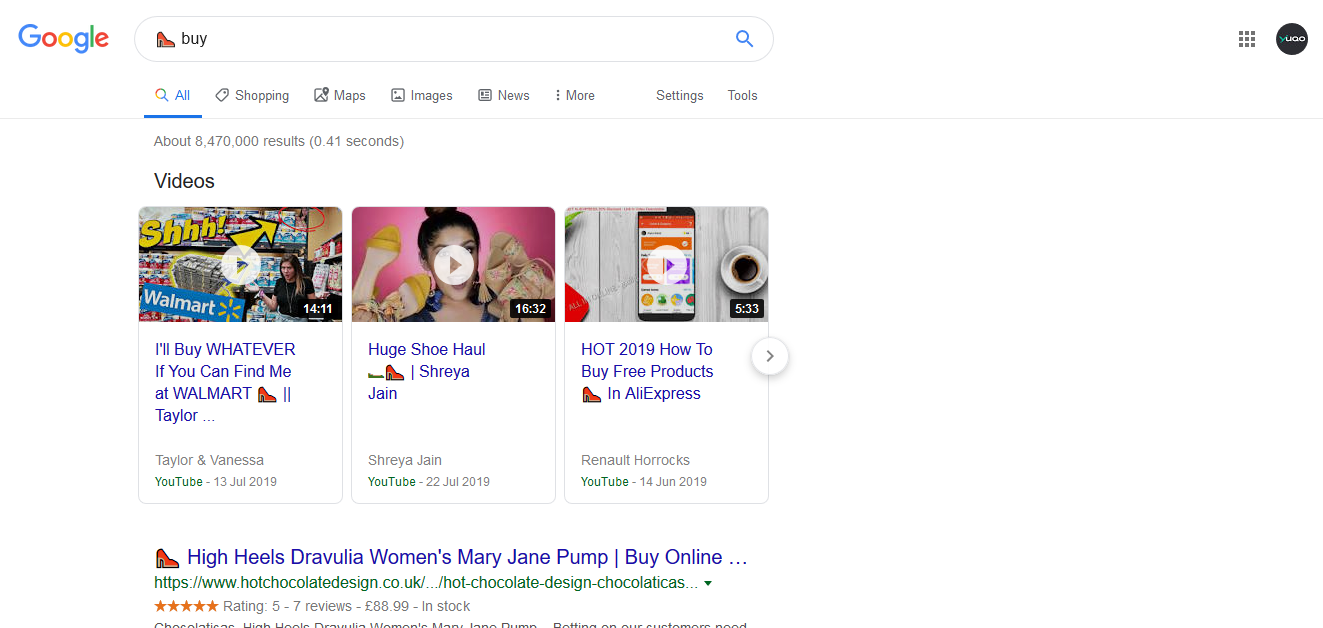 In this case, an instant drop in search volume will occur as fewer businesses use emojis in their meta data. This means that while you'll still have to compete with other businesses, there is a better chance of you landing on the first page of search results.
Furthermore, this drop in search volume doesn't mean that no one will find you; it only means that fewer people overall will come across your business. Lucky for you, you don't need the entire internet—just a fraction of it. And the traffic is still pretty decent! This works for Image Search as well.
3: EMOJIS HELP LOCAL SEO
Just like "regular" SEO, emojis can do wonders for your promotion if you run a local cafe, bar, or shop that can be found with the help of "near me" searches. How can you promote better local SEO? With the help of emoji searches that we've already mentioned above.
Take a look at the results for emoji-based search query "*pizza emoji* delivery near me":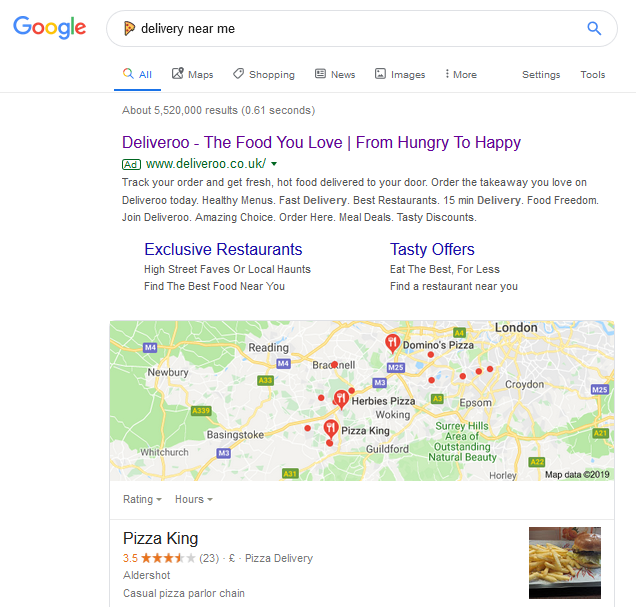 If we scroll down the page, we'll see a result from a company that includes the pizza emoji in their meta title.
Furthermore, when we type a pizza emoji into the search bar, we see the following suggestions:

While Pizza Hut isn't a local brand, it is still displayed in Google's suggested searches, and is a great example of attaching emojis to a certain brand identity. Therefore, if your brand name contains an emoji keyword, consider exploiting that for promotional use as well.
Of course, not all emoji words will be equally effective. It's important to pick high-impact ones that are likely to be searched for. Everything from the pizza emoji to the dress emoji to the fire emoji can be used to locate or even identify your brand. This can drive more traffic to a physical location and boost your local SEO in kind.
4: EMOJIS COULD ATTRACT YOUNGER DEMOGRAPHICS
Not all businesses will benefit from using emojis; "serious" ones like hospice care centres probably won't, nor will the sad ones (like a funeral home). However, if you believe that your business should be attracting younger demographics, emojis might help you to achieve just that.
Many millennials prefer emojis over words, so there's a huge chance that their searches will be emoji-based. However, even if not, they could still take an interest in your brand upon seeing you use emojis in your meta title, on your website, or on your social media channels.
5: YOU CAN USE EMOJIS TO BUILD AUDIENCE TRUST
There's a reason people love emojis so much: they often help convey emotions better than words. Without them, it would be hard to understand if a person is being serious or sarcastic, angry or tired, and so on.
Therefore, using emojis helps your brand look more human and emotional. It also allows brands to trigger memorability and show their audience that they "speak the same language".
Though emojis themselves are not enough to build a strong SEO strategy, they could be an excellent addition to one. Of course, you should do it wisely, track the results, and make sure you don't overdo it. If you stick to these principles, you can boost your local and overall SEO to start looking more trustworthy and up-to-date in the eyes of your audience.