I
It's that time of year again when spooky translation fails come out of the internet woodwork to reveal shocking truths about unprofessional translations. We break down 11 of the most gruesome fails and provide you with the resources you need to ensure these translation blunders never happen to your business.
Reading Time:
5
minutes
It's Halloween, and what better way to celebrate than with a gruesome list of translation fails?
Below, we've handpicked our top 11 favourite Halloween translation fails of all time. Have a read, have a laugh, and remember to contact Yuqo for translation services you can trust.
1: SHREDDED CHILDREN RAMEN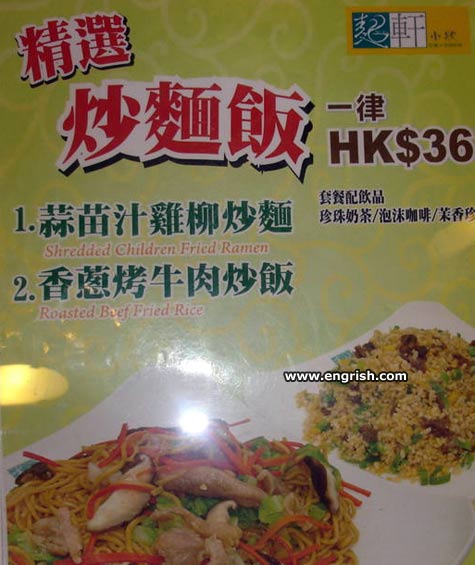 This comes courtesy of a mysterious Hong Kong restaurant. For only HK$36, indulge in a gruesome twist on everyone's favourite noodle dish: ramen, complete with a generous serving of shredded children. Yummy.
2: MYSTERY BACTERIA POT MONSTERS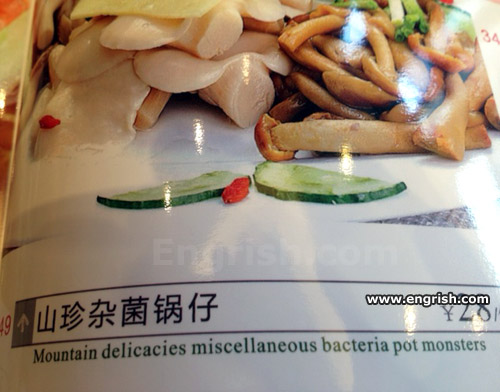 To be honest, we're not quite sure what the owners of this Japanese restaurant were trying to communicate. Regardless, I think I'm going to stick with my Shredded Children Ramen. At least I know what I'll be getting.
3: BUDGET OLD CHICKEN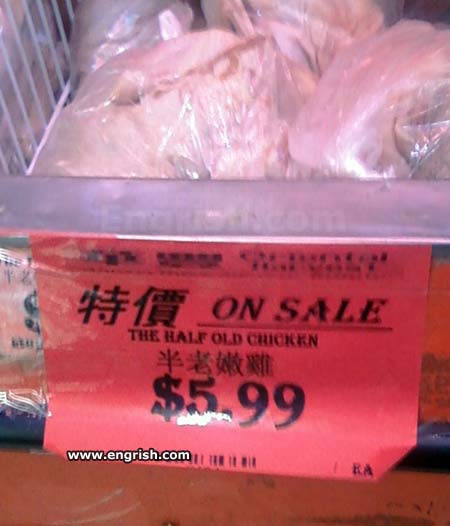 Mmm, just when I thought I couldn't tempt my taste buds anymore, I stumbled on this translation nightmare found at an Asian supermarket. Old chicken to go with your Bacteria Pot Monsters, anyone?
4: EXECUTION IN PROGRESS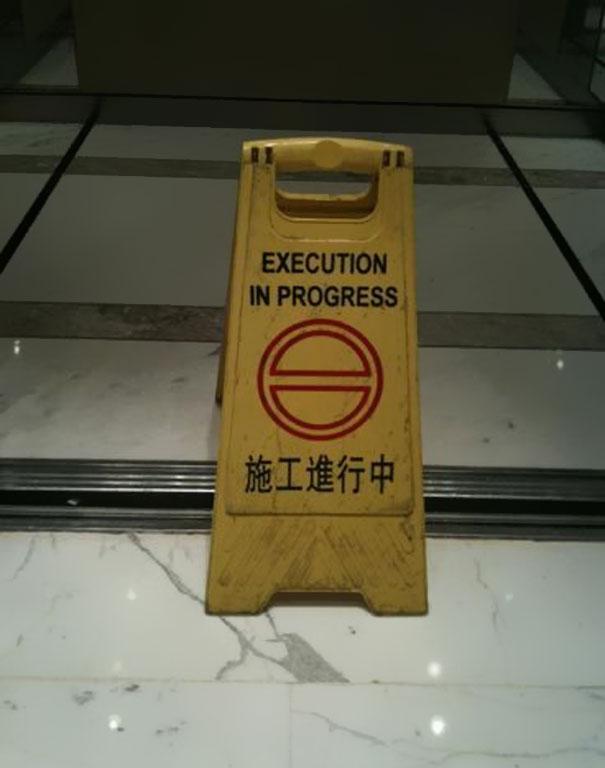 Whatever workplace this is, I'd be handing in my resignation ASAP. I hope the photographer made it out safe and sound…
5: TOUCH YOU PAINFUL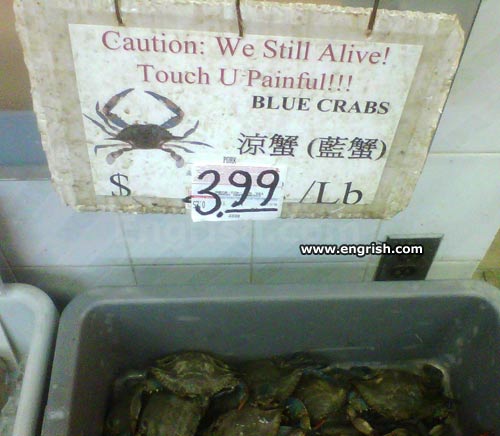 If there's something you gotta look out for, it's the painful touch of a blue crab. This hilarious translation was found at an Asian seafood market and comes to us courtesy of Engrish.
6: GENERAL MOTORS' CORPSEMOBILE: DRIVE TIL' YOU DIE
Up until the 1990s, all General Motors vehicles came with a "body by Fisher" emblem to certify their bodies were built by Fisher, a leading vehicle body builder.
Unfortunately, translating their emblem into Flemish made the whole thing seem a whole lot creepier. Instead of reading "Body by Fisher," GM's Flemish translation read "Corpse by Fisher."
Anyone fancy a ride in The Corpsemobile?
7: FUN NEDDY LOVELY'S DEMONDONKEY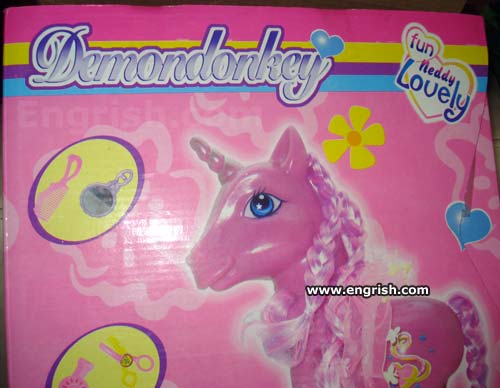 I've come across many Chinese toy knockoffs, but this ripoff of Hasbro's iconic My Little Pony franchise has to top them all. For the little devil in all of you, summon your Demondonkey today!
8: NIKE'S "GET FAT" CAMPAIGN
In 2016, Nike suffered a major translation fail in an ad campaign for its iconic Air Force 1 sneaker.
To celebrate Chinese New Year, the company gave customers the opportunity to customize the sneakers with the characters 發 ('fa') and 福 ('fu').
When viewed separately, the characters mean prosperity and luck (respectively). However, together the two characters translate into "get fat," which is exactly what Chinese customers read when they saw the ad with the 'fa' and 'fu' symbols placed next to each other.
9: THE UK'S B&Q GOES GLOBAL, NOT
The nearest B&Q to #Aberystwyth is in the #USA!😂 🗽🛫💵

B&Q Welsh translation gaffe directs shoppers to US – https://t.co/FkpSCywb5g

— Thomas Scarrott (@thomasscarrott) July 12, 2016
B&Q is a retail company based in the UK specializing in DIY equipment and accessories.
In 2016, a Welsh franchise of the company changed addresses and subsequently advertised their new location on bilingual posters reading "You can find us at…" in English and Welsh.
Unfortunately, the marketers must have relied on Google Translate, because their Welsh translation read "United States" instead of 'us.'
The company later apologized for the mistake, but the damage had already been done.
10: TRUMP'S NOT-SO-SURPRISING SPANISH FAIL
They didn't translate Hispanics to Hispanos and they used para instead of por 👀https://t.co/5oUYZOhoWO #RNCinCLE pic.twitter.com/pc32XmP7Ba

— Alexa Ura (@alexazura) July 22, 2016

At the 2016 Republican National Convention, Trump's translators really trumped their attempt to reach out to Hispanic voters.
In an attempt to broaden his appeal, Trump supporters at the convention were encouraged to hold up campaign signs that read "Hispanics for Trump" in Spanish.
I don't know what translators Trump used, but out of the 3 words on the Spanish signs, only the word Trump was correct. "Hispanics" should have been translated into "Hispanos" in Spanish, and the correct word for "for" in this context is "por" instead of "para."
As you can imagine, rather than strengthen his bond with Hispanic voters, Trump's campaign did quite the opposite.
11: KFC – WATCH YOUR FINGERS!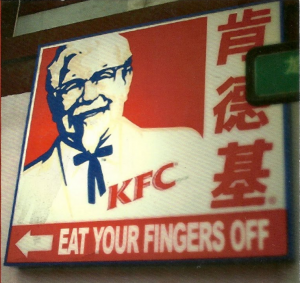 KFC is a world leader in the fast-food industry and their slogan ("finger-lickin' good") is almost instantly recognizable across the English-speaking world.
Today, the company has also managed to dominate the Chinese fast-food market, becoming the most powerful foreign brand in the country and the most popular fast-food restaurant chain.
But not before making a big translation mistake of its own; after breaking into the Chinese market in the 1980s, the company translated its slogan to "eat your fingers off." Oops!
AVOID THESE SIMPLE MISTAKES: HIRE HUMAN TRANSLATORS
While this list is sure to generate a laugh, the consequences of some of these translation fails are far from funny. Sure, you might encounter a bad translation at a family-run Chinese restaurant on your backpacking trip. But when big entities like Nike, KFC, or the President of the US make these mistakes, the repercussions can be serious.
Poor translations make it hard for customers to take you seriously; instead, they make your brand seem very unprofessional. To avoid these pitfalls with your business, make sure you work with real human translators.
At Yuqo, we pride ourselves on offering top translation services for all kinds of businesses. By working with our expert team of native translators, you can rest assured all your translated content is accurate and professional.