H
How to rank higher in Google? Which SEO strategies should you pay attention to and which ones can be neglected? In this article, we'll tell you about the last 59 Google ranking factors, determining which are most important at present.
Reading Time:
12
minutes
We've been running our Google ranking factors series for a while, and now it's time for the final instalment. As you know, Google considers over 200 factors to rank web pages, and speculation over what these factors are has been brewing for a long time.
Despite the fact that no one besides the core Google team could name all of these factors for sure, assumptions could and should be made. In this article, we'll discuss the last 59 ranking factors, and try to figure out which ones are crucial, and which are less important.
SPECIAL GOOGLE ALGORITHM RULES
Some of these were already mentioned in the previous article. However, there are still a few left.
151: SAFE SEARCH
If you turn on the Safe Search option, you won't be able to see websites with adult content or curse words in search results. How does this affect rankings exactly? No matter how good your SEO efforts are, if your website contains content deemed potentially inappropriate, it will not show up in Safe Search results. On the other hand, websites without any inappropriate content may perform better than their competitors when users enter search queries in Safe Search.
152: TRANSACTIONAL SEARCHES
Transactional searches indicate an intent to complete a certain transaction, be it a purchase, an order, etc.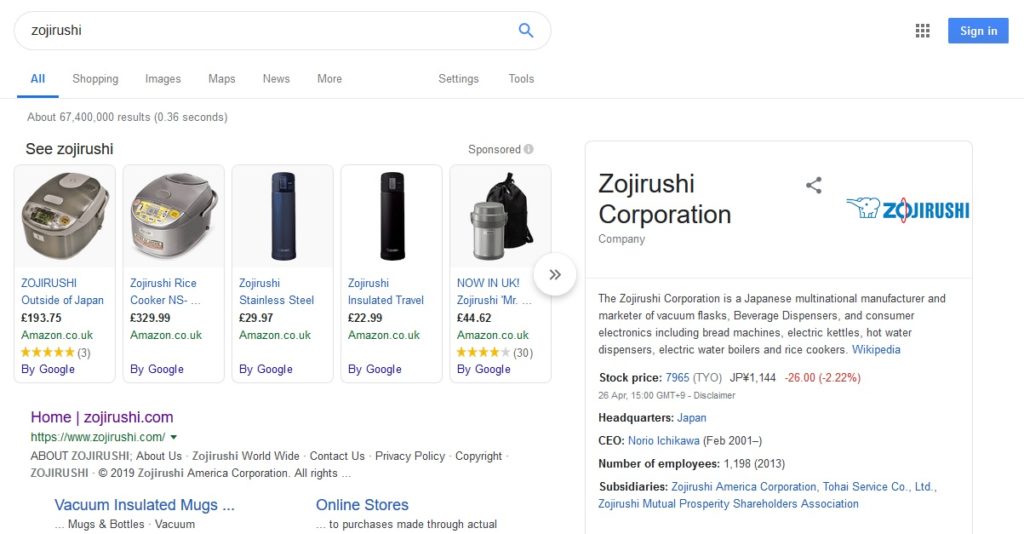 Optimising keywords for such transactional queries could improve your rankings, making things as clear as possible both for potential customers and Google. For instance, the search query "Apple iPhone" may suggest that a person needs some information about the product, or wants to purchase it. If you add the word "buy" to the beginning of the query, you'll make it clear that it is transactional, making it easier for Google to properly understand and rank.
153: LOCAL SEARCHES
Google's goal is to make search results as relevant as possible. This often includes placing local results above organic ones for local searches. As a result, do not ignore the importance of local SEO in your content marketing strategy.
154: DOMAIN DIVERSITY
Domain diversity is the number of unique domains linking to your website. Further, it involves how many times a particular domain links to you. This is, of course, a major ranking factor: acquiring multiple links from different domains to the same page definitely helps to boost its authority and increase its rank as a result.
155: GOOGLE CIRCLES
We all know that Google+ was basically dead on arrival. However, Google may still rank certain pages higher for a search query if the user added the author, blog, or website on Google+ circles.
On the other hand, this isn't a major ranking factor. Though it doesn't hurt to set up a Google+ account, it doesn't offer huge SEO benefits either. Therefore, if you cannot afford to invest time in Google+, you can skip this without worrying that it might harm your SEO strategy.
156: YMYL KEYWORDS
YMYL stands for "Your Money or Your Life". YMYL is often used to describe pages that, were they low-quality, could negatively affect the audience's income, happiness, and even their overall life.
That being said, Google pays special attention to pages and keywords that could be described as YMYL and has higher content quality standards for them.
157: DMCA COMPLAINTS
DMCA complaints, also known as DMCA takedown requests, are filed when someone violates the copyright of a certain piece of content.
They are a definite ranking factor. Google "downranks" pages that have such complaints.
158: TOP STORIES BOX
Though Google News is a separate search channel, its results can sometimes still be displayed in the first position of search results. This is called the Top Stories box.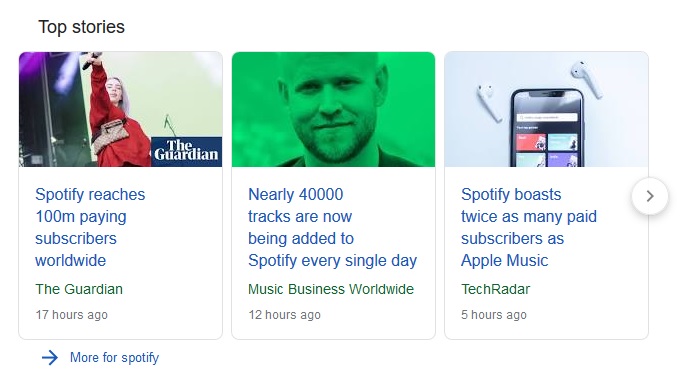 Getting featured in Top Stories isn't easy; it is available only for news publishers. This means that if you run an e-commerce blog that has a news section in it, you won't be able to make it to the box. However, if you are the owner of an online media publication that often publishes unique news, you have a chance of getting shown.
159: BIG BRAND PREFERENCE
The Vince Update released in 2009 gave big brands a boost for certain keywords.
But is it still relevant? Though brand itself isn't a ranking factor anymore, Google's determination to rank sites based on trust and authority ultimately ranks a lot of established brands higher than fledgeling enterprises.
160: PAYDAY LOANS UPDATE
The search term "payday loans" has been attracting searches for years. That was until 2013, when the search queries became so spammy they barely listed a legitimate payday loan company. After that, a payday loan algorithm was launched, helping to clean up the queries.
It is still possible to rank high for payday loans these days. All you need to do is learn how to work with the algorithm.
161: SHOPPING RESULTS
Google Shopping results are sometimes displayed in organic search queries, giving you an opportunity to improve rankings with the help of such results. That is, if you optimise your Google Shopping content effectively.
162: IMAGE RESULTS
Just like shopping results, Google Images could appear in organic SERPs too. Proper image optimisation could help you make the most of your SEO and improve your rankings.
163: EASTER EGG RESULTS
Google has a variety of Easter Egg results—search queries that show something unexpected and amusing. There's a chance to improve rankings by tailoring a certain piece of content to these Easter Egg results. However, you'll need to invest some time into it, and the outcome might not turn out to be worth the effort. Therefore, you shouldn't view this as an important ranking factor.
164: SINGLE SITE BRAND RESULTS
In 2010, Google stated that one domain could dominate search results for the same query. However, in reality, ranking a single brand/website multiple times in SERPs is extremely difficult, though not impossible.
BRAND SIGNALS
Brand signals are the cues that show Google that your brand exists and that it is credible and trustworthy. Building proper brand signals is the way to show Google that you're legit, to establish a trusting relationship, and to increase your search engine exposure.
Here are the signals that could help you do all of the above.
165: BRAND NAME ANCHOR TEXT
Putting your brand name in anchor text is a simple thing to do. At the same time, it has a big effect on SEO.
166: BRAND MENTIONS ON TOP STORIES
Big brands are often mentioned on Top Stories. Furthermore, some of them even have their own news feeds featured on Google. You might not be able to achieve that just yet, but keep in mind that being mentioned in news is great for building your brand.
167: BRANDED SEARCHES
Getting people to search for your brand in Google will show it that the brand itself is real (and that a website about this brand is trustworthy).
168: UNLINKED BRAND MENTIONS
The same goes for unlinked brand mentions; if people mention your brand even without linking to it, Google considers this a brand signal as well.
169: BRAND + KEYWORD SEARCHES
If people search for certain keywords along with your brand (like "Yuqo SEO" instead of just "Yuqo"), Google might increase your rankings in the non-branded version of this search query. For instance, the next time your audience searches "SEO", the website they already searched for will rank higher in search results.
170: LEGITIMATE SOCIAL MEDIA ACCOUNT
Building a strong social media presence is, without a doubt, important for most businesses, not only because of sales, but because of SEO too. Google tries to distinguish fake social media accounts from real ones. Therefore, your account needs to not only have lots of (real) followers but must be updated regularly in order to look legitimate.
171: OFFICIAL LINKEDIN COMPANY PAGE
If you want to make your business look serious and trustworthy both for Google and your audience, be sure to create a company page on LinkedIn.
172: BRICK AND MORTAR LOCATION
All serious businesses have offices, so be sure to include some location data on your website, and possibly even add it to Google Maps. There's a chance that Google will search for it in order to find out whether your website is a big brand or not.
173: KNOWN AUTHORSHIP
According to Google CEO Eric Schmidt, information that comes from verified online profiles ranks higher than that which is not.
174: FACEBOOK PAGE LIKES
Likes show both Google and your audience that your Facebook page is active and offers some useful information. Therefore, do your best to post valuable content and encourage likes.
175: TWITTER FOLLOWERS
Just like Facebook likes, the number of Twitter followers you have could also be a relevant brand signal, indicating that your brand is popular.
ON-SITE WEBSPAM FACTORS
176: PANDA PENALTY
Google Panda is an algorithm created to increase the number of high-quality websites in search results. It analyses websites, penalising them for low-quality content. This happens often with content farms: companies that hire freelancers to generate large amounts of textual content that, despite being designed to satisfy the search algorithm, doesn't have much practical value for the audience.
Getting hit by a Panda penalty definitely decreases your rankings, so be sure to invest in the quality of your content.
177: IP ADDRESS FLAGGED AS SPAM
Being considered a spammy website by Google is definitely not a pleasant experience. Unfortunately, sometimes this happens even when it's not your fault. If the IP address of your server is flagged for spam, there's a chance **it will affect all the websites located on that server. Therefore, be sure to check it from time to time.
178: META TAG SPAMMING
Keyword stuffing is no longer a thing when it comes to texts. However, it still happens in meta tags often.
Be sure to avoid this. If Google decides you're adding certain keywords to the description and title tags because you believe they'll help boost SEO, your website can be hit with a penalty.
179: POP-UPS OR DISTRACTING ADS
They might be effective for advertising. However, according to the official Google rater guidelines document, such ads could be a sign of a low-quality site, therefore decreasing your rankings.
180: INTERSTITIAL POP-UPS
Pop-up windows are often called interstitials. In most cases, they are used to increase conversion: for instance, by encouraging visitors to fill out a contact form or to sign up for a newsletter. However, if they are implemented incorrectly, they could hurt your SEO.
There's a chance that Google may penalise websites that show such pop-ups to mobile users.
181: LINKS TO BAD NEIGHBOURHOODS
If you link to so-called "bad neighbourhoods" (websites that have been downgraded by search engines for different reasons), this could hurt your rankings.
182: REDIRECTS
Generally, redirects aren't bad. However, there's a thing called sneaky redirects; these are ones that lead visitors to different content than what they searched for. If your website is caught using such redirects, it can get penalised and even de-indexed.
183: GIBBERISH CONTENT
Google is able to identify gibberish content in resources, filtering out websites that use auto-generated or spun content.
184: AUTO-GENERATED CONTENT
Google treats it the same way as gibberish; websites with such content could be de-indexed and penalised.
185: HIDING AFFILIATE LINKS
Hiding affiliate links is a risky thing in general. This could be especially risky if you try to do it with cloaking. You need to be extremely careful and avoid that if possible, because it could bring on a Google penalty.
186: AFFILIATE SITES
Google doesn't like affiliate programs. This doesn't mean you shouldn't monetise your site with their help, you just need to be careful when doing so. Many believe that websites that use such programs are put under extra scrutiny by Google.
187: OVER-OPTIMISATION
We've already mentioned it a couple of times in this series, and we're going to say it again: over-optimisation such as keyword stuffing in texts and tags could affect your SEO adversely and hurt your rankings.
188: DOORWAY PAGES
Doorway pages are created with the sole purpose of ranking high in SERPs, ultimately leading visitors to several similar pages on a domain. This takes away from SERP diversity and authority, so Google definitely doesn't like them.
189: ADS ABOVE THE FOLD
Google also doesn't like ad-heavy sites, creating the Page Layout Algorithm to penalise websites with too many ads above the fold.
190: GOOGLE FRED
Google Fred is an update launched in 2017. Its primary goal is to target websites that use black hat tactics to monetise: those that include lots of ads, provide low-quality content and offer little value to visitors. Getting targeted by Google Fred could hurt your rankings as well.
191: EXCESS PAGERANK SCULPTING
PageRank sculpting is a way to affect your website's PageRank flow by controlling the flow of your links. You can achieve that by using the nofollow attribute with your links.
Apparently, PageRank sculpting is still a thing in 2018. However, if you go too far with it and make all outbound links nofollow, it could be a bad sign for Google, hurting your rankings in kind.
OFF-SITE WEBSPAM FACTORS
192: A NUMBER OF UNNATURAL LINKS
An unexpected and unnatural number of links indicates to Google that these links are most certainly phoney, hurting the website's rankings as a result.
193: UNNATURAL LINKS WARNING
When Google starts sending you messages about "detected unnatural links", this is usually a bad sign for your rankings.
194: HIGH PERCENTAGE OF LOW-QUALITY LINKS IN A LINK PROFILE
Try to avoid links coming from sources that are commonly used by SEOs who prefer black hat techniques. This could indicate to Google that you are trying to game the system. In most cases, such sources come from forum profiles, blog comments, etc.
195: LINKS FROM UNRELATED WEBSITES
It's okay to include backlinks from sites that aren't related to the topic or your niche in general. However, if you do this too often and have too many unrelated backlinks on your site, this could ultimately hurt you.
196: LINKS FROM THE SAME CLASS C IP
Private blog network (or PBN) is a network of websites created to manipulate search engine rankings in order to promote a single website, building links and passing authority to it.
Therefore, if you get an unnatural amount of links from sites that have the same server IP, this is generally not a good sign to Google. As such, Google can decide that these links are coming from a PBN and will penalise your site.
197: UNNATURAL LINK SPIKE
Just like we've already mentioned, Google doesn't like unnatural links. An influx of such links is an immediate signal for Google to devalue these links or penalise your site.
198: LOW-QUALITY DIRECTORY LINKS
Google itself stated that including backlinks from low-quality directories can get your website penalised.
199: SELLING LINKS
Google doesn't like link-sellers, so getting caught while doing so can affect your rankings in a very bad way.
200: WIDGET LINKS
Keep in mind that while widgets, in general, don't hurt your SEO, some of them contain certain links and anchor texts that the webmaster doesn't control. Such links are considered unnatural, and Google treats them as a violation of Google Webmaster Guidelines.

201: TEMPORARY LINK SCHEMES
Creating spammy links and removing them quickly is a temporary link scheme. Google knows about such schemes and is able to identify them. You should avoid them at any cost if you don't want to hurt your SEO.
202: LINKS FROM PRESS RELEASES AND ARTICLES
Though they aren't bad themselves, they've been overused. In fact, so much so that Google now treats such strategies as a link scheme—so it's better to avoid them.
203: GOOGLE PENGUIN PENALTY
Google Penguin is an algorithm created to identify websites that use black hat techniques to increase their rankings. If it hits your website, your position in search results decreases significantly. However, a recent update focuses more on spotting bad links than penalising entire sites.
204: "POISON" ANCHOR TEXT
Some anchor texts (like curse words and pharmacy keywords) are considered "poison". If such anchors point to your website, this might indicate to Google that the website is hacked or spammy, decreasing its ranking in any case.
205: MANUAL ACTIONS
Certain manual actions associated with black hat link building, such as attempting to manipulate Google's search index, could hurt the rankings of your site as well.
206: DISAVOW TOOL
If your website has been penalised (either manually or algorithmically) for using low-quality and spammy links, the most obvious next step would be getting rid of them. This could be done manually as well. However, if you've been trying to remove these links for a while, but still have some to take down, you can disavow the remaining ones. Putting it simply, by doing so, you ask Google not to take certain links on your website into account.
Using this tool could help you remove a Google penalty and improve your rankings if your site was the victim of negative SEO.
207: RECONSIDERATION REQUEST
If your reconsideration request has been satisfied, it could lift the Google penalty and improve your rankings as well.
208: GOOGLE SANDBOX
Google Sandbox limits the search visibility of certain sites, though only temporarily. If your website is new and gets an unexpected influx of links, it might be put in the Sandbox for a while.
209: GOOGLE DANCE
A period of time during which Google rankings are rebuilt is called the Google Dance. Despite the funny name, it is a real thing, also known as the random ranking factor. The rankings usually fluctuate during this period (which often lasts for a couple of days). However, all you can do in this situation is to be patient and wait until the rankings settle again.
These are all of the potential Google ranking factors! Of course, they might change with time, and not all of them are equally important. However, we can safely assert the most important ones (as of early 2019):
Domain authority
Referring domains
Mobile usability
On-page SEO
Organic CTR
Total number of natural backlinks
Dwell time
Quality of content
Therefore, if you're wondering how to start improving your SEO strategy, you can begin by focusing on a couple of these factors (or on all of them, if you have enough time and resources). We hope that this blog series will help you improve your SEO and grow your website or brand!